Furniture
Gowning Racks
Electropolished or chrome finish available. Single, dual, and cantilever styles available. Available with non-removable hanger construction. A domed cap over the hanger rail secures the hanger and prevents removal. Heavy gauge construction. 1 1/2" square tube, type 304 stainless steel. 14 gauge hanger rails with hanger slots spaced on standard 3" centers. Other spacing, down to 1 1/2" centers available. Slot designed to retain gowns in a fixed position by allowing the hangers (not included) to swing front-to-back but not left-to-right, while the shape facilitates a smoother laminar flow than many square hanger rails. Standard 2" diameter, nylon dissipative feet with 1/2" adjustability. Optional foot plates available to affix gowning rack to the floor. InterMetro, Eagle.
Gowning racks available up to 84" long in some styles.
Custom sizes available.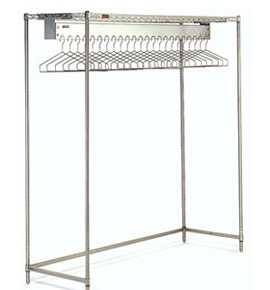 | Style | Description | Size | Pack | Qty | |
| --- | --- | --- | --- | --- | --- |
| C2448-GR | Eagle - 17 hanger slots, Chrome (hangers not included) | 24 in. x 48 in. | Each | | |
| EP2448-GR | Eagle - 17 hanger slots, Electropolished (hangers not included) | 24 in. x 48 in. | Each | | |
| OLH-S | Eagle SS open loop hangers | - | Each | | |
| OLH-EP | Eagle Electropolished open loop hangers | - | Each | | |
| GRU2448S | Metro- Upright Electropolished Rack with 15 hangers | 24 in. x 48 in. | Each | | |
Specifications
Download Documents