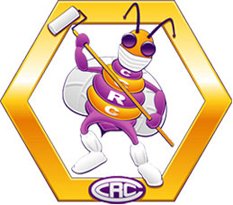 Our new BEE SMART symbol is a metaphor of the busy bee who gathers honey and is constantly building the hive. For us, BEE SMART represents our commitment of support to our customers who request custom applications and products. These custom products and services help our customers to be more innovative, more efficient and continuously build their businesses.
From the moment we opened our doors in 1979, we began building a support service by customizing, converting, slitting, sheeting and diecutting products, helping each customer find a solution to meet their individual needs.
Here is a very impressive list of some of the products we have developed:
Lapping Discs
Lot Tags
Paper Interleaves
Cleanroom Repair Tags
Reject Tags
Stencil Rolls
Lapping Discs
Sport Mats
Furniture Wraps
Wafer Separators
Vinyl Sheeting
Custom Shaped Mats
PC Board Panel Wraps
Look for our BEE SMART symbol to see which products can be customized to fit your needs. For more information on BEE SMART email us at [email protected] or call (860) 589-0049 and ask our Customer Care Team for more details.