Converting Services - Nonwoven Materials
Converting nonwoven material is not a problem at CCRC. Whether it is your own material or ours, CCRC's proprietary equipment allows us to slit from 8" to 36" wide material. Currently we slit, sheet and rewind, polyester cellulose blends, 100% polyester nonwovens, multi-layer material and many other blends as provided by our customers. Our auto bagger / printer allows us to bag, seal and print consistently on each package as desired by our customers. All this is done in a clean environment.
Converting Capabilities
The Rosenthal Slitter/Sheeter located in our cleanroom has the ability to cut up to 48" wide rolls of paper, vinyl, Tyvek® etc at very close tolerances. With dual unwinds and weight capacity of 2,000 lbs each, if set up for paper, we can produce in excess of 100 cases per day.
Two precision guillotines, one Prism model and one Challenger model can trim and cut stacks as small as 3/4" wide to a maximum of 45". We can cut a variety of material ranging from paper to cardboard, plastics and other materials. The Prism model, set for trimming paper can cut to tolerances of +/-.005. The Challenger model is used to trim and cut our nonwoven wipers.
Our Cyco Slitter/Rewinder can accommodate core sizes of 2 and 3 inch on the rewind. With a minimum of 2" wide and maximum width of 44" and a maximum OD of 28" we have the flexibility of rewinding a wide variety of sizes on both plastic and corrugated cores.
CCRC converts nonwoven materials into wipers of many sizes. Our proprietary equipment allows us to slit from 8" to 18" of multiple sheets of material. We can accommodate custom sizes off of master rolls that allows us to slit from 6" to 36". All products are cut, trimmed and packaged in our cleanroom.
Notebook production continues to grow. We maintain an auto punch with oval spiral punches, Challenge MS5 paper drill, corner rounder and spiral inserter. We make standard and custom sizes as well as private label notebooks. CCRC also maintains die-cutting equipment to compliment our customizing capabilities. Also located in the cleanroom, all products are cut and packaged within. Contact CCRC for contract converting, processing and packaging of your products.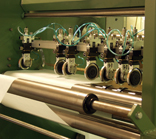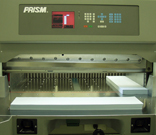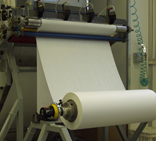 Ask Us!