NOTICE: Read Our Efficacy of Contec® Disinfectants Regarding Coronavirus-Wuhan (COVID-19)
CLICK HERE
Quality Brands, Quality Products Since 1979
Knowledgeable Staff Ready To Assist You
CCRC is a preferred supplier throughout North America and abroad. Our mission is to provide our customers with the best product at the lowest possible price. We support this effort with technical information, on-time deliveries and product guarantee. Each of our knowledgeable sales staff average over 15 years of industry experience and are ready to answer any questions you may have.
Largest Converter of Munising® cleanroom paper in the United States.
In 1991 CCRC began converting Munising LP cleanroom paper. Today, CCRC is the largest converter of Munising LP® cleanroom paper in the country. To augment the converting operation additional materials were added including nonwoven wipers (polyester/cellulose blend) and Tyvek®. Currently, nonwoven material is cut into many sizes including special packaging for sterilization and rolled goods. Tyvek® is converted into writing documents, wafer separators, liners and assorted items. All converting is done at our facilities in Bristol, CT where an ISO Class 6-5 environment is maintained for converting within a 35,000 square foot complex. Our corporate office, manufacturing, converting and central warehouse are all located at this location.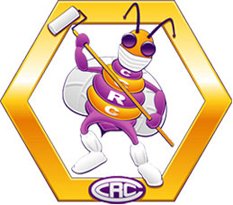 BEE SMART Support
Our BEE SMART symbol is a metaphor of the busy bee who gathers honey and is constantly building the hive. For us, BEE SMART represents our commitment of support to our customers who request custom applications and products. These custom products and services help our customers to be more innovative, more efficient and continuously build their businesses.
FEATURED PRODUCTS
CleanZorb® Sterile Wipes
Chemically compatible with common cleaning and disinfecting solutions including isopropyl alcohol, phenols, bleaches and quaternary ammonium compounds.
PeridoxRTU® Sporicidal Disinfectant and Cleaner
PeridoxRTU a simple one-step cleaner, disinfectant, and sporicide that works well with CleanZorb® Wipes