Wipers
Amplitude™ Prozorb® Wipe
This spunlaced wipe consists of cellulose and polyester produced through a special process that creates apertures in the fabric while enhancing the thickness and provides excellent cleanliness. The resulting wipe has a textured surface that promotes cleaning, particle removal, and excellent sorbency.
Textured surface promotes effective cleaning and particle removal
Low levels of particles and extractables
Highly sorbent
Strong and durable
Recommended for use in ISO Class 5 cleanroom applications.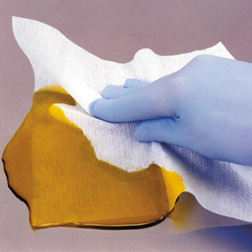 | Style | Description | Size | Pack | Qty | |
| --- | --- | --- | --- | --- | --- |
| PZ-44 | Amplitude Prozorb | 4 in. x 4 in. (10cm x 10cm) | 800 wipes/bag; 12 bags/case | | |
| PZ-99 | Amplitude Prozorb | 9 in. x 9 in. (23cm x 23cm) | 200 wipes/bag; 12 bags/case | | |
| PZ-1212 | Amplitude Prozorb | 12 in. x 12 in. (30cm x 30cm) | 100 wipes/bag; 18 bags/case | | |
Specifications
Technical Data
Wipe material
Cellulose/polyester aperatured
Wipe construction
Hydroentangled
Attribute; (units)
Value**
Test Method
Basis weight; (g/m2)
55
Contect Method
Sorbency in water

Intrinsic; (mL/g)

6.7
IEST-RP-CC004.3, Sec. 8.1

Extrinsic; (mL/m2)

367
IEST-RP-CC004.3, Sec. 8.1
Sorptive rate; (seconds)
<1
Non-volatile residue, NVR
IEST-RP-CC004.3, Sec. 7.1.2

In deionized water; (g/m2)

0.008

In isopropanol; (g/m2)

0.007
Specific Ions
IEST-RP-CC004.3, Sec. 7.2.2

Sodium; (ppm)

22.2

Chloride; (ppm)

16.5
Particles, readily releasable
IEST-RP-CC004.2, Sec. 5.1

P ≥0.5µm; (x106/m2)

29.7
Fiber >100µm; (x103/m2)
11
IEST-RP-CC004.2, Sec. 5.2
Download Documents