Wipers
Chemtronics Coventry Chamois
A unique wiper made from polyester and nylon microfiber. The microfibers provide excellent absorbency and particulate entrapment. Wedge shaped fibers act as small squegies for superior surface contact with sealed edges, insuring low particulate levels.
Low non-volatile residue (NVR)
Sealed edge
Flat pack
For Use In Class 1-100 (M1.0-M3.5) Cleanrooms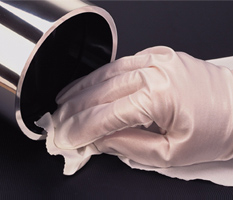 | Style | Description | Size | Pack | Qty | |
| --- | --- | --- | --- | --- | --- |
| 7348LE | Chamois Wipe | 8 in. x 8 in. | 50 bag/5 bags/case | | |
Specifications
Technical Data
Wipe Material
Polyester/Nylon Microfiber Fabric
Wipe
7348LE
Availability
8 in. x 8 in. (20cm x 20cm)
Basis Weight
190 g/m2
NVR in DI Water
None Detected
Absorbency
450 ml/m2
Chloride
0.06 micro-grams/cm2
Particles: ≥0.5 microns
(Orbital Shake, 150 rmp, 5 Minutes)
5,931/cm2
Compatibility:
The Cleanroom Chamois™ is compatible with most common solvents such as isopropyl alcohol, methanol, and ketones such as acetone. These wipes are also generally compatible with dilute or weak acids and bases.
The wipes were tested by Particle Measurement Technology. The wipe tests were done using the recommended practices of the Institute of Environmental Science, Swabs and Wipes Working Group.
Download Documents