Wipers
CleanZorb Nonwoven
Ideal for applications where high sorbency and low extractables are important. Excellent for picking up aqueous spills. Suitable for cleaning precision components and apparatus. Fabricated from a polyester/woodpulp blend, this material combines the high sorbency of natural fibers with the cleanliness of synthetic fibers. Low particle counts, low extractable levels and solvent compatibility, this wiper is ideal for general wiping and spill control in controlled environments. Typically, suitable for class 10,000 use. In some cases, this wiper may be used in a class 100 environment. The information presented may be used as a guideline for a particular use or uses.
Nonwoven, spunlaced construction for excellent strength
Available in Heavyweight and Lightweight material
Compatible with most solvents
Can be gamma irradiated
Standard sizes from 4" x 4" to 18" x 18"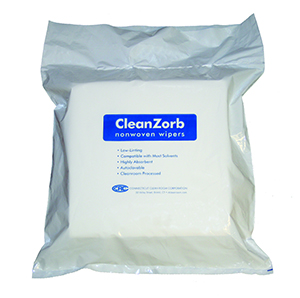 | Style | Grade | Size | Color | Qty | |
| --- | --- | --- | --- | --- | --- |
| CR | | | Heavyweight | | |
| PCW | White | | Lightweight | | |
Specifications
Packaging
| Heavyweight Size | Pack | Case |
| --- | --- | --- |
| 4" x 4" | 1200 | 12 packs/case |
| 6" x 6" | 300 | 20 packs/case |
| 6" x 6" | 600 | 10 packs/case |
| 7" x 7" | 300 | 18 packs/case |
| 9" x 9" | 150 | 24 packs/case |
| 9" x 9" | 300 | 12 packs/case |
| 12" x 12" | 75 | 24 packs/case |
| 12" x 12" | 150 | 12 packs/case |
| 18" x 18" | 150 | 5 packs/case |
| Lightweight Size | Pack | Case |
| 7" x 7" | 300 | 18 packs/case |
| 9" x 9" | 300 | 12 packs/case |
| 12" x 12" | 150 | 12 packs/case |
Download Documents