Apparel
KleenGuard A65
Designed for protection against non-hazardous and hazardous dust in areas where exposure to sparks is possible. Ideal for use when workers may be exposed to sparks.
KleenGuard® A65 is breathable with a high moisture vapor transmission rate to be worn comfortably over reusable flame-resistant garments.
Features
Flame-resistant and compliant with NFPA 701 FLAME PROPAGATION TEST (1999 edition)
Complies with flame resistance requirements cited by paragraph 6.1 of CAN/CGSB-155.2-2000
Passes NFPA 99 for antistatic materials
Design meets ANSI/ISEA 101-1996 sizing standard
Serged seams
Do not use for fire protection. Avoid open flame or intense heat. KleenGuard A65 garments do not provide thermal insulation/protection.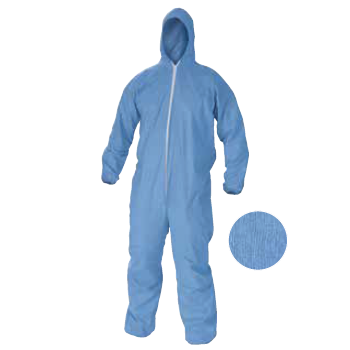 MTO=Made to Order
| Style | Description | Size | Pack | Qty | |
| --- | --- | --- | --- | --- | --- |
| KleenGuard A65 - Blue | Coverall: Zipper Front | | 25/case - 3XL+ is 21/case | | |
| KleenGuard A65 - Blue - ISO 16602:2007 | Coverall: Zipper Front, Elastic Wrists, Ankles and Hood | | 25/case - 3XL+ is 21/case | | |
| KleenGuard A65 - Blue ISO16602:2007 | Coverall: Zipper Front, Elastic wrists, Ankles, Hood and Boots | | 25/case - 3XL+ is 21/case | | |
Specifications
Documents