Medical Grade Gloves
BioGard™ Antimicrobial Nitrile
BioGard™ is the FIRST Antimicrobial Multi-Purpose glove of its kind with built-in antimicrobial properties, providing optimal protection to the wearer. When the need for antimicrobial protection is at work or at home, BioGard™ gloves have you covered.
Microbial Control
Antimicrobial PHMB (polyhexamethylene biguanide) on the exterior glove surface provides multi-purpose barrier protection for use in environments where protection against microbes is a must.
Use BioGard for: High risk areas, or where high level disinfection (HLD) processes & procedures are followed.
In laboratory testing, Ansell Antimicrobial Technology (AMT) is proven to kill up to 99.999% of bacteria that come in contact with these gloves.
The risk associated with Microbial Safety can be greater than Physical Safety risks (cuts, burns, chemical injuries) and often overlooked.
Skin Protection
Made from 100% nitrile rubber and is safe for latex-sensitive (Type I) users.
Durability & Dependability
Excellent puncture and chemical resistance barrier properties, delivering peace of mind in higher risk applications. Extra thick and optimized for the best balance of protection and tactile sensitivity, all while allowing for a comfortable fit while working.
Grip
Textured fingertips promote 'sure handling' in wet and dry environments.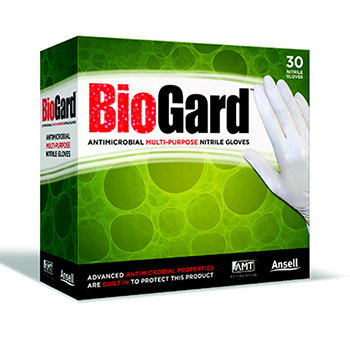 | Style | Description | Size | Pack | Qty | |
| --- | --- | --- | --- | --- | --- |
| 495 | Antimicrobial Nitrile | | 30/dispenser, 50 dispensers/case | | |
Specifications
Thickness (single)

Data from sampling
Average Thickness
Fintertip, mm (mils)
0.11 (4.3)
Palm, mm (mils)
0.08 (3.1)

Physical Properties

Before Aging
After Aging
Freedom from Holes (inspection level I)
1.5 AQL*
N/A
Tensile, MPa (psi) minimum
14.0 (2030)
14.0 (2030)
Elongation (%) minimum
550
450

Dimensional Specifications

Size
Typical Average Length
mm (inches)
Typical Average Palm Width
mm (inches)
X-Small
245 (9.6)
75 (3.0)
Small
245 (9.6)
85 (3.3)
Medium
245 (9.6)
95 (3.7)
Large
245 (9.6)
106 (4.1)
X-Large
245 (9.6)
116 (4.6)
Material
100% Nitrile Rubber/Not Manufactured with Natural Rubber Latex
Color
White
Design
Ambidextrous
Cuff
Beaded
Surface
Textured Fingers
Surface Treatment
External: Polyhexamethylene Biguanide (PHMB)
Accelerators
Zinc Dibutyl Dithiocarbamate (ZDBC)
Powder Content
less than or equal to 2 mg/gr
Certification
Manufacturing Facility Registered to ISO 9001:2008
Quality Control
Manufactured in compliance with ASTM D5151, ASTM D412, ASTM D6319, ASTM 3767, ASTM D6124
Country of Origin
Malaysia
Packaging Material
Latex-Free
Storage
Cool environment, shielded from ozone and UV light
Style
495
Download Documents