Specialty Gloves
Ansell TouchNTuff®
For work in manufacturing, maintenance, cleanup, laboratory analysis, emergency response, and intricate parts handling
Textured fingers for enhanced grip.
Does not contain any natural rubber latex, so allergic reactions from latex are avoided
Complies with FDA regulations for food contact
Powder-free
5 mil
9.5"
Green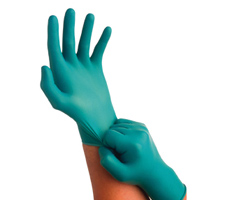 | Style | Description | Size | Pack | Qty | |
| --- | --- | --- | --- | --- | --- |
| 92-600 | Ambidextrous, Powder Free, Smooth Grip Nitrile | | 100/dispenser, 10 dispensers/carton, 1,000 gloves per carton | | |
| 92-605 | Ambidextrous, Powder Free, Textured Fingers Nitrile | | 100/dispenser, 10 dispensers/carton, 1,000 gloves per carton | | |
Specifications
Product Information
Product
92-600
92-605
Material
Nitrile
Color
Green
Glove Design
Ambidextrous, Powder Free, Smooth Grip
Ambidextrous, Powder Free, Textured Fingers
Cuff
Beaded Cuff
Manufacturing/QMS Audit Standards
ISO9001
Regulatory/Standards Compliance
EN420, EN374/1,2,3, ASTM D6319, FDA 21 CFR 177-2600, Compliant with U.S. Food Contact Regulations
Standard Packaging
100 gloves per dispenser, 10 dispensers per shipper carton, 1,000 gloves per shipper carton
Storage
Keep out of direct sunlight; store in a cool and dry place. Keep away from sources of ozone or ignition.
Country of Origin
Sir Lanka/ Thailand
Thailand
User Needs Segment
Robust Glove - Gloves that provide added strength, durability and chemical splash protection for longer wear times.
High Risk Glove - Extended cuff gloves that provide additional protection for the wrist and the forearm.
Physical Properties
Property
Typical Values
Testing Method
SIZE
S
6.5-7
M
7.5-8
L
8.5-9
XL
9.5-10
ASTM D3767/EN 420
Length (mm/in)
92-600
240/9.5
240/9.5
240/9.5
240/9.5
92-605
300/11.8
300/11.8
300/11.8
300/11.8
Average Palm Width (mm/in)
92-600
85/3.35
96/3.7
105/4.13
111/4.37
92-605
82/3.23
90/3.54
99/3.90
105/4.13
Freedom from Holes
(Inspection Level I)
92-600
4.0 AQL
ASTM D515/EN 374-2
92-605
1.5 AQL
Palm Thickness Single Wall
(mm: 0.12)/(mils: 4.7)
ASTM D3767/EN 420
BEFORE AGING
AFTER AGING
Ultimate Tensile Strength
>14 Mpa
>14 Mpa
ASTM D 412-06a
Elongation at Break (%)
>500
>400
ASTM D 412-06a
Force at break (N)
>6
>6
EN 455-2
Download Documents