Mats
Comfort2Go
Comfort2Go always lives up to its name! It's easy on the knees when you kneel. And it's a long-lasting portable anti-fatigue mat...always there when you need it cause it's got a handle. When workers are on the go or moving about the workplace, Comfort2Go is the go-to choice among professionals.
Portable and versatile
Built in handle for ease of carrying and storing
Standing and kneeling support
Overall thickness 7/8"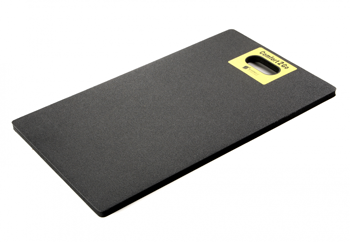 | Style | Description | Size | Pack | Qty | |
| --- | --- | --- | --- | --- | --- |
| 518.78x17x30BK | Black | 17 in. x 30 in. | Each | | |
Specifications
| Property | Test/Result |
| --- | --- |
| Flammability: | MVSS 302/'A'; Rating |
| Taber Abrasion: | Federal Standard 191/1000g, CS-17 wheel |
| Temperature Range: | 0 to 100°F |
| Coefficient of Friction: | ASTM F1677/Dry: COF=.68/Wet: COF=.17 |
| Compression Deflection: | ASTM D395-98/20% |
| Tear Strength: | Not Available |
| ESD Rating: | Not Available |
| Dielectric Strength: | Not Available |