Mats
Tile Top AM SpongeCote UltraSoft
UltraSoft Tile-Top AM doubles down on combating fatigue even while providing a top to bottom anti-microbial solution. The Green color in the Nitricell sponge differentiates from standard products that do not have anti-microbial properties. Twice as thick, it absorbs repeated compression and bounces back to its original form better than any PVC sponge alternative. The top surface is sealed with a tough anti-microbial scrim. Tile-Top AM provides support for teams in labs, pharmacies, biotechnology and pharmaceutical manufacturing.
UltraSoft Tile-Top AM
Anti-Microbial "Best" Sponge
Tough but attractive abrasion and chemical resistant PVC surface
Machine cut and beveled edges prevent tripping
The ONLY fully customizable Tile-Top matting product available
Overall thickness 7/8"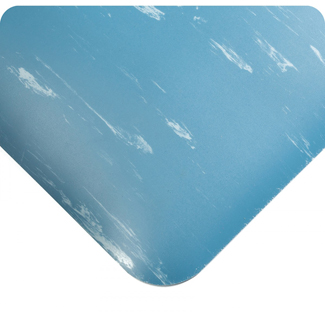 | Style | Color | Size | Pack | Qty | |
| --- | --- | --- | --- | --- | --- |
| 419.78x2x3AM | | 2 ft. x 3 ft. | Each | | |
| 419.78x3x5AM | | 3 ft. x 5 ft. | Each | | |
| 419.78x2CUTAM | | 2 ft. Cut up to 60 ft. | Sq. Ft. | | |
| 419.78x2x60AM | | 2 ft. x 60 ft. | Roll | | |
| 419.78x3CUTAM | | 3 ft. Cut up to 60 ft. | Sq. Ft. | | |
| 419.78x3x10AM | | 3 ft. x 10 ft. | Each | | |
| 419.78x3x60AM | | 3 ft. x 60 ft. | Roll | | |
| 419.78x4CUTAM | | 4 ft. Cut up to 60 ft. | Sq. Ft. | | |
| 419.78x4x60AM | Charcoal | 4 ft. x 60 ft. | Roll | | |
Specifications
| Property | Test/Result |
| --- | --- |
| Flammability: | MVSS 302/'A'; Rating, 0 Burn Rate |
| Taber Abrasion: | Federal Standard 191/1000g, CS-17 wheel |
| Temperature Range: | 0 to 110°F |
| Coefficient of Friction: | ASTM F1677/Dry:COF=.78 |
| Compression Deflection: | ASTM D395-98/20% |
| Tear Strength: | Not Available |
| ESD Rating: | Not Available |
| Dielectric Strength: | Not Available |