Vacuum Cleaners
Industrial Dry Vacuum Cleaner
The DV-M2 uses 21.53 square feet of filter material that is pulled and pleated into pockets, drastically increasing the surface area of the filter and providing maximum filtration of fine particles. It's perfect for manufacturing, powder coating and many other industrial applications. Best of all, this new addition to our industrial vacuum line is available at a price that offers you as much value as it does performance.
Two heavy-duty motors
Detachable roll-out collection tank
External filter shaker
Reusable 3 micron pocket filter
Uses 1 1/2 in, 2 in or 3 in hoses
DA-KIT-D 2" Dry Accessory Kit includes:
VAC-003 Vinyl Crush Proof Hose 10' with VAC-053-2 Hose Cuff
DA-RD2 Hose Adapter for connecting DV Vacuums to 2" hoses
DA-BW-2 Single Bend Wand 50"
DA-FT-2B Floor Tool 21"
VAC-029 Bulk Pickup Nozzle 18"
VAC-049 Steel Crevice Tool 24"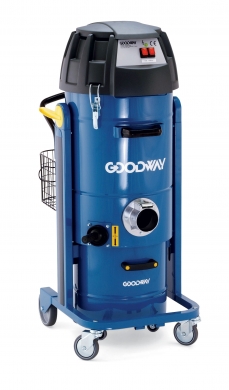 | | Style | Description | Size | Pack | Qty | |
| --- | --- | --- | --- | --- | --- | --- |
| | DV-M2 | Industrial Vacuum Cleaner | N/A | Each | | |
| | DA-PF-16 | Polyester Pocket Filter | 3 microns | Each | | |
| | DA-HF | HEPA Filter w/Bottom Cap | 3 microns | Each | | |
| | DA-PF-16A | Anti-Static Pocket Filter | 1 micron | Each | | |
| | DA-KIT-D | Accessory Kit | N/A | Each | | |
Specifications
DV-M2
Motor Power: 2.7 HP (total)
Input Power: 15 amps, 115 V, 50/60 Hz AC
Power Supply Cord: 30 ft, 14-3
Static Water Lift: 90"
Air Displacement: 224 CFM
Filtration:

Standard: 3 microns polyester pocket
Optional: 1 micron anti-static pocket and 0.3 microns HEPA

Tank: 9 gallons bonderized steel
Dry Capacity: 9 gallons
Noise Level: 76 dBA
Dimensions: 15" diameter x 50" high
Weight: 100 lbs
Documents