Wipers
Pro-Series Classic Duster
MDI's Pro-Series Classic Dust Cloths are specially designed to deliver the professional quality dust control needed to keep work environments healthy and clean. Dust is a major source for PBDEs (Polybrominated diphenyl ether). A 2008 study by the EPA estimates that 80% of PBDE exposure comes from house dust.
Pro-Series Classic Dust Cloths are treated with mineral oil to help attract and retain small dust particles without leaving lint, residue or waxy buildup. The cloth is a magnet for dust, leaving surfaces dust free without the use of sprays and their associated costs.
Pro-Series Dust Cloths are designed to be soft for controlling dust accumulation on delicate surfaces while durable enough to withstand rugged dusting applications. They are available in a variety of sizes to allow for versatile hand dusting or dusting tool use, and are polybagged to keep them fresh and clean prior to use.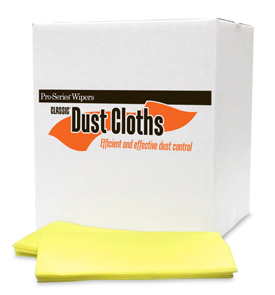 | Style | Description | Size | Pack | Qty | |
| --- | --- | --- | --- | --- | --- |
| 78403 | Classic Yellow Treated Duster 1/6 Fold Poly | 17 in. x 24 in. | 50/bag, 500/case | | |
Specifications
Physical & Chemical Properties
Appearance:
Yellow Nonwoven Fabric
pH:
not applicable
Boiling point/boiling range:
not applicable
Melting point/melting range:
482-500°F (250-260°C)
Explosive properties:
not applicable
Oxidizing properties:
not applicable
Vapor Pressure:
not applicable
Solubility - water:
non-soluble
Solubility - fat:
non-soluble
Partition coefficient (octanol/water):
not applicable