Our History
Connecticut Clean Room Corporation (CCRC) was founded in Bristol, Connecticut in 1979 as a manufacturer of PolyTack peel-off decontamination mats. In order to fill the gap and service the blossoming cleanroom industry, CCRC became a distributor of cleanroom supplies and equipment. Over the years, the product line continued to grow to 3,500 related items which represents some of the largest cleanroom product manufacturers in the country for use in controlled environments covering a wide range of industries. Some of these industries include semiconductor manufacturers, microelectronics, biotechnology, pharmaceutical, medical device, fiber optics and other related high technology, industrial and automotive applications.
Equipment for Converting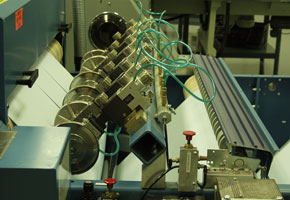 In 1991 CCRC began converting Munising LP cleanroom paper. Today, CCRC is the largest converter of Munising LP® cleanroom paper in the country. To augment the converting operation additional materials were added including nonwoven wipers (polyester/cellulose blend) and Tyvek®. Currently, nonwoven material is cut into many sizes including special packaging for sterilization and rolled goods. Tyvek® is converted into writing documents, wafer separators, liners and assorted items. All converting is done at our facilities in Bristol, CT where a controlled environment is maintained for converting within a 55,000 square foot complex. Our corporate office, manufacturing, converting and central warehouse are all located at this location.
Our equipment list includes a Rosenthal Slitter/Sheeter that has the ability to cut up to 48" wide rolls of paper, vinyl, Tyvek and other materials at very close tolerances. Featuring dual unwinds and a weight capacity of 2,000 lbs our slitter/sheeter provides a fast turnaround. This machine is located in our controlled environment.
Our precision guillotines the Prism and the Challenger can trim and cut stacks of material as small as 3/4" wide to a maximum of 45". These materials range from specialty papers, Tyvek, and plastics just to name a few. The Prism trims paper with tolerances of +/-.005. and the Challenger trims and cuts CCRC's nonwoven wipers.
The Cyco Slitter/Rewinder can accommodate core sizes of 2 and 3 inch on the rewind. With a minimum width of 2", a maximum width of 44" and a maximum OD of 28" this allows the flexibility of rewinding a wide variety of sizes on both plastic and corrugated cores.
Our Capabilities
CCRC converts nonwoven materials into wipers of many sizes. Our proprietary equipment allows us to slit from 8" to 18" of material. We can accommodate custom sizes off of a master roll up to 36" wide. All of our products are cut, trimmed and packaged in our controlled environment.
Each year our notebook production continues to grow. To ensure the highest quality and to meet industry standards we maintain a high-speed auto punch with oval spiral punches, Challenge MS5paper drill, corner rounder and an automated spiral inserter.
We make standard and custom sizes as well as private label notebooks. Our die-cutting equipment compliments our customizing capabilities by utilizing a traveling head press die punch to cut a variety of materials.